He aratohu mā ngā kaiwhakahaere me ngā tari
Guidance for managers and agencies
For each 360° assessment participants need to complete a spreadsheet with their respondents across various categories such as peers, direct reports and stakeholders.
As part of the process, if you are a manager, you will be invited to share feedback on your direct report. Only the participant and manager responses are individually identified in 360° reports. All other ratings are aggregated by respondent group for reporting.
Process for participants completing a 360 assessment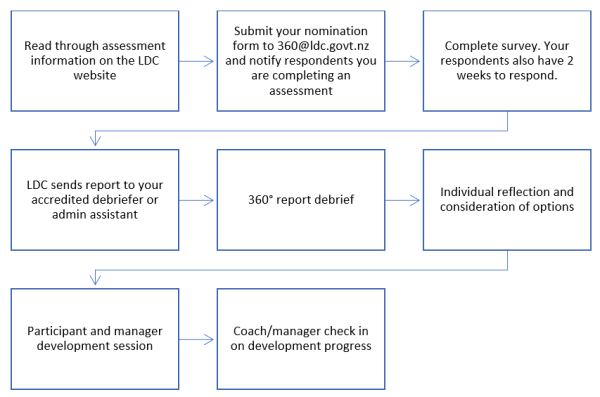 Supporting development planning
The leader seeking feedback and development through the 360° process will first be debriefed by an accredited coach or support person. As this information is about them and their leadership behaviours, it is important they are primarily responsible for determining how to progress their development. To achieve this, leaders are supported and strongly encouraged to reflect on their results, consider their options and then involve their manager in finalising an individual development plan.
After the initial 360° report debrief, we recommend participants have a follow-up session about a week later to focus on development planning. During the initial debriefing session, participants tend to be focused on understanding the feedback and the report. A conversation about development options is best held later when the participant has had time to reflect on their report.
You can view example pages from a 360° report below.
Example 360° report [PDF, 271 KB]
Costs
180° assessments
Note, if the participant plans on sharing their assessment with a mentor, coach, or someone else who will review the feedback with them, then that person must be accredited in the use of our assessment tools. If the participant plans on reviewing the feedback solely with their manager then there is no requirement for an accredited debriefer to be involved.
360° assessments
For 360° assessments participants must be debriefed on their report by someone accredited to use our assessment tools. We strongly recommend participants are debriefed by individuals who are suitably experienced in leadership coaching. We can work with you to identify a qualified debriefer if you don't have one, email 360@ldc.govt.nz to request a list of accredited debriefers.
We can also accredit experienced coaches or individuals in LDC member agencies who regularly provide assessment feedback to others. This session takes about 2 hours and is free for member agencies.
Invoicing
Most agencies require information to be displayed on a supplier's invoice in these times of increasing financial controls. For assessments, we will require a PO or Cost Code for our invoice, and confirmation of which agency is to be charged. This information is required in advance of our invoice being generated, and therefore, prior to the services we are providing you with. It is important you check in with your own finance team to find out what is needed when requesting our services.
More detailed information is provided below.
PO/cost code instructions for LDC [PDF, 149 KB]
Aggregate reports
We can provide aggregate reports for agencies that summarise key leadership strengths and development opportunities for senior leadership teams or other cohorts of leaders completing our 360° assessments. These reports can provide useful insights to help determine team, group or organisation-wide leadership development priorities and needs, and can be used in conjunction with other team development interventions to strengthen leader dynamics and peer relationships. Contact 360@ldc.govt.nz to find out if this is an option, likely timeframes and associated costs.