Te Kaitaki
New Leader of Leaders Development
This leadership programme helps new leader of leaders to successfully lead others and build an effective leadership team.
You need different skills to those you gained as a kaihautū, a leader of individual contributors who sets the pace, to a kaitaki, leader of leaders that sets the course. We designed Te Kaitaki for those who have transitioned within the last 12 months into their first role leading other leaders.
The 8-month programme, designed alongside the Public Service Act 2020, seeks to build the critical leadership skills, mindsets and practices that support some of the system transformation shifts outlined within the legislation. Connecting leaders to important contexts in which they lead within, such as supporting Māori Crown relationships, lifting strategic and systems thinking, and leading inclusively so they and their teams can navigate the waves.
On this course you will be stretched beyond pure knowledge acquisition and design a series of safe-to-fail leadership experiments based on the theory, frameworks and models. Each month you will complete a self-paced development guide, attend a facilitated session to deepen knowledge, design a leadership experiment and engage in peer learning groups.
Tū ai te kaitiaki ki te kei, ko tana hoe urungi ka ārahi i te waka. Ko papā tana reo i te takiwā pēnei i te whatitiri, e piki ai te wairua, e wero ai i te kāhui kia eke ki tōna taumata.
The Kaitaki stands at the back of the waka, their steering paddle setting the course. Their voice rolls across the water like thunder, lifting spirits and challenging the group's potential.
In te ao Māori a kaitaki is a leader who stands on the back of the waka and steers the paddle to set the course. They encourage and lift the potential of all who are on board. As a leader of leaders, you will steer the course so your teams are connected to one another, the vision and strategy of your agency, so they feel united through a spirit of service for communities across Aotearoa.
Key areas
Te Kaitaki focuses on 6 development priorities that were identified as the most important for new leaders of leaders to focus on in the first 12 months of transition.
Te Tirohanga | Mindset – I let go of being across all the details to lead on organisational priorities. I have the self-awareness and resilience to lead amid complex and competing demands.
Te Rautaki | Strategy – I understand strategy and communicate a clear sense of vision, and purpose to my teams. I consider the broader perspectives, connections and impact of my team's work and plan accordingly.
Te Whakaaweawe | Influence – I build trust and use my relationships to contribute to successful outcomes for New Zealanders. I am aware that my level of influence is now broader and use this without compromising my values.
Te tautoko i ngā hononga o te Māori me te Karauna | Supporting Māori Crown Relationships – I champion the Crown's relationship with Māori and build capability to achieve effective partnerships. I develop and support inclusive teams that represent and serve our communities.
Te Mahi tahi | Collaborate – I build a diverse network and create opportunities to work across work programmes. With a system view, I work alongside stakeholders to priorities resources to achieve common goals.
Te Whakawhanake | Develop – I coach leaders in my team to enhance their individual leadership styles. I focus on building a high performing leadership team where everybody performs and thrives.
Eligibility and cost
You should be within the first 12 months of transition into a new role leading other leaders. This should be your first time leading other leaders.
The cost to attend Te Kaitaki is $3,500 per member agency participant, or $5,500 for non-member agency participants (excl. GST).
Programme options
The programme may be delivered face-to-face, virtually or a mix of both options. Some agencies within the Public Service are now also hosting Te Kaitaki internally. Talk to your HR team for more information.
---
Programme overview
The programme begins with a 3 hour kick-off session so you can meet the other participants and learn more about the programme.
You will then focus on 1 development priority each month, for six months. Within that month, each week you focus on a different component.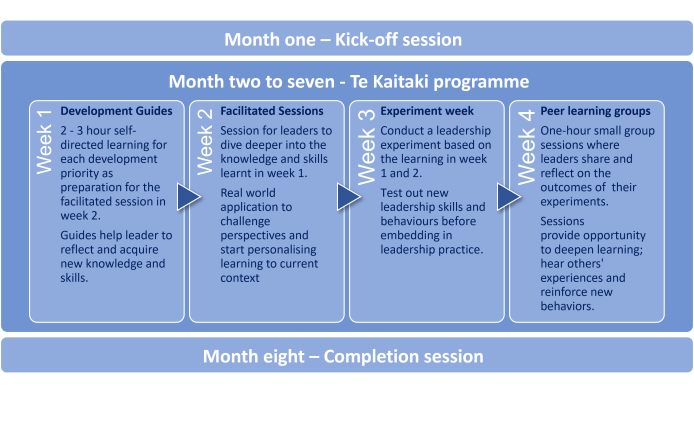 The programme wraps up with a 2-hour session so you can reflect on your progress made.
Programme materials
Before you start the programme you'll be sent a copy of the Participant Guide so you can familiarise yourself with the programme structure and components.
Development Guides and Actions Guides are also core components of the programme.
---
Benefits
Opportunities to network with peers in the Public Service who share a common purpose with you and are at a similar level in the organisation.
Development guides to support your reflection, spark your curiosity and help you acquire new knowledge.
Applied learning within the flow of your day to day work through personalised leadership experiments.
Using the te ao Māori concept of ako you will generate meaningful reflections and insight from the leaders around you.
Gain personal insights from guest speakers in senior management roles.
---
Testimonials
"It's given me more confidence...I don't get into the detail as much. I'm thinking more strategically and have a vision for my team. I'm collaborating more across the system."
"The facilitator made a place for everyone to engage and express their viewpoints. It is one of the best leadership programmes I have participated in thanks to the facilitator and my fellow cohort learners. "
"My confidence as a leader of leaders has increased. I also have a greater self awareness of my strengths and areas of development."
"I've really enjoyed the small group discussions. Getting insights from others is so powerful, especially as we have got to know each other and are more comfortable opening up and sharing honestly."