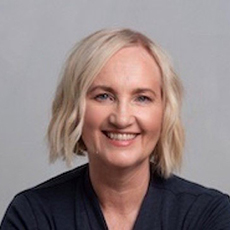 ---
Coach list: People and thought leaders
Email: sue@artemisgroup.co.nz
Phone: 027 570 6646
Website: linkedin.com/in/suejohnstonpccc
Location: Greytown, Wairarapa
Face to face delivery:
Locations without disbursements: Wairarapa and Wellington
Locations with disbursements: All other New Zealand locations
Virtual delivery: Zoom
Sue worked in the public-sector as a policy advisor and manager before she moved into personal and professional leadership development. In 2000, she founded Artemis Group as a vehicle for her professional services work with clients and for her entrepreneurial adventures.
Sue is sought out by clients for her ability to equip them to lead with courage and authenticity. She establishes a high trust environment enabling clients to get comfortable with discomfort, as well as stretch and challenge them to explore and develop their leadership potential.
Sue partners with clients in a thought-provoking and creative process that inspires them to maximise their personal and professional potential. She honours the client as the expert in his/her/their life and work.
Sue sees it as her responsibility to:
Discover, clarify, and align with what the client wants to achieve.
Encourage client self-discovery.
Elicit client-generated solutions and strategies.
Hold the client responsible and accountable.
This process helps clients improve their outlook on work and life, while improving their leadership skills and unlocking their potential.
Sue is a Professional Certified Coach (International Coach Federation) and uses a range of research-backed methodologies such as Growth Edge Coaching, The Dare to Lead™ programme, Leadership Circle Profile 360 and Korn Ferry Leadership Architect 360 assessments.